What's Happening on GulchRadio?
Freeform Rock n Roll Soul Blues Alternative, Old or New,
If It's Good We Will Play It For You!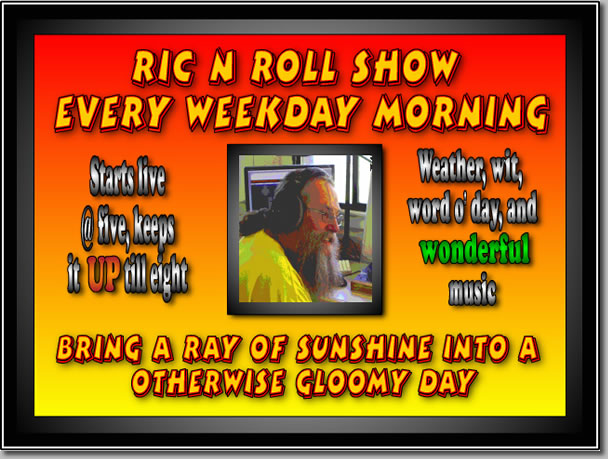 5 to 8 AM MST - Ric-n-Roll Show (Live DJ) - Ric does a local, live show, featuring a variety of rock/soul/county to make the mornings move along, some comedy, satire, word of the day and weather tossed into the mix.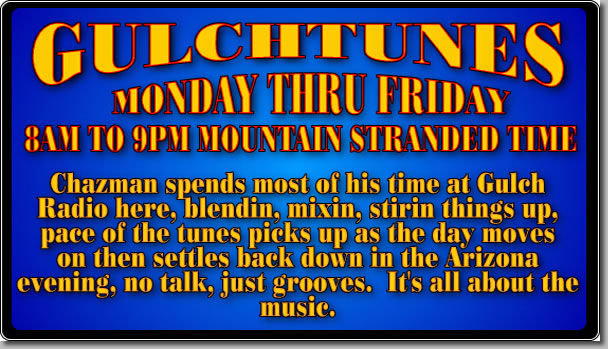 8 AM to 9 PM MST - Alternative -Rock - Reggae - Blues - Country - Folk - and best of all, fodder free, we use only the tastiest ingredients! Check out the Gulch playlist page, go to: http://loudcity.com/station/1064.aspx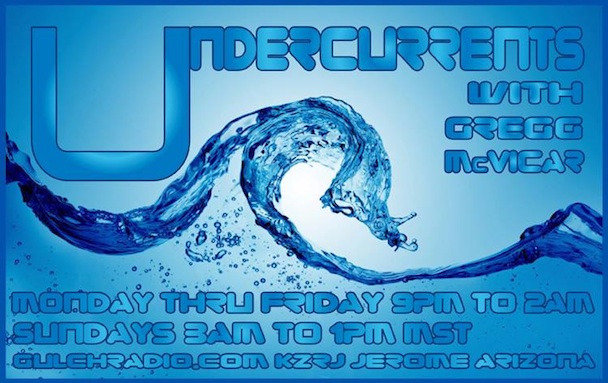 9 PM to 2 AM MST - UnderCurrents with Gregg McVicar - Rock, blues, folk, native, country, funk, electronica, reggae, world, conscious hip hop, dub, and more. Hosted by Gregg McVicar, UnderCurrents is intelligent, fun and easygoing - diving deep to reveal past and future favorites. You can find the playlist for UnderCurrents shows, both past and current at: http://www.undercurrentsradio.net/UC/Playlists.html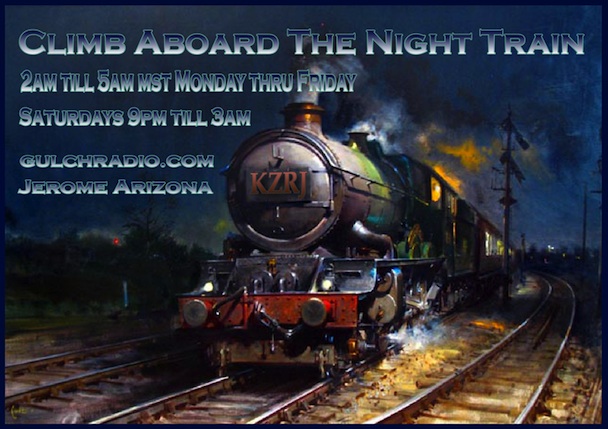 2:00 AM- 5:00 AM MST Monday thru Friday/Saturdays 9 PM to 3 AM MST - The Night Train - climb on board for a ride through a world of rich and mellow rock with an emphasis on soul and romance - music to keep your late night/early morning groove on the right track.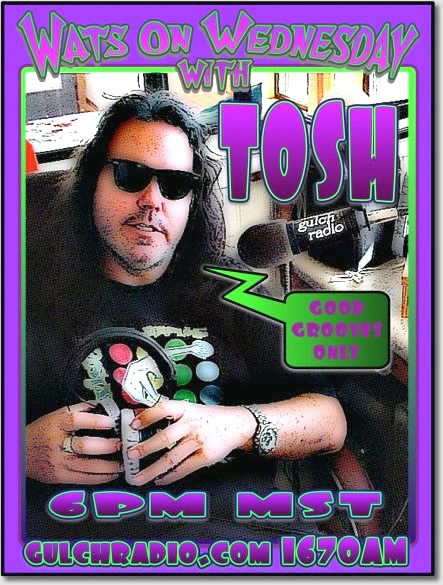 Wednesday nights at 6 to 9 PM MST - Tosh takes to the GulchRadio airwaves with his unique blend of free form music radio. Old stuff, new stuff, rock, blues, country jazz, local artists blended together in his unique style and spiced with a dose of artist information, where they are playing and when, as well as news on our local and Arizona wide music scene - performance locations, dates and times - if you are a local (Arizona) band and want to be included, send us your information to: gulchradio@hotmail.com and join Tosh on gulchradio.com all around the world and here at home = AM1670 KCRJ Jerome, AZ for What's Up Wednesday - that's what's on wednesday!
Thursday Nights - 7 PM to 9 PM MST / Saturday mornings 5 AM to 8 AM MST - Stuck In the Psychedelic Era - with your host "The Hermit" - Stuck in the Psychedelic Era is a twice weekly two hour radio show on gulchradio.com AM1670 KCRJ Jerome, AZ featuring music from roughly the years 1964-69. The show is literally a throwback to the days of "underground" radio. There are no pre-recorded jingles or promotional spots; just two hours of music, punctuated by occasional commentary by The Hermit, whose own radio career began on a small closed-circuit station in the early 70s.
Much of the music is taken directly from vintage vinyl, scratches and all. The rest comes from Compact Disc compilations and re-issues of original albums, all taken from the Hermit's personal collection.
Commentary is centered on the music itself: artist histories, contextual information, anecdotes, personal memories and occasional forays into how the music of the psychedelic era relates to today's world. Each week The Hermit writes a blog, The Hermit Rambles about the featured music in the current show as well as his archived show - read about the music: http://www.thehermitrambles.blogspot.com/
Saturday:

Saturday 7 AM to 9 PM MST - GulchRadio's weekday morning man, Ric picks the Saturday platters to keep you movin' from early morning to late afternoon, then shifts the mood to a more evening offering of rock, blues, soul and more right up to Grateful Dead Hour when David Gans takes over the turntables.


Saturday Night: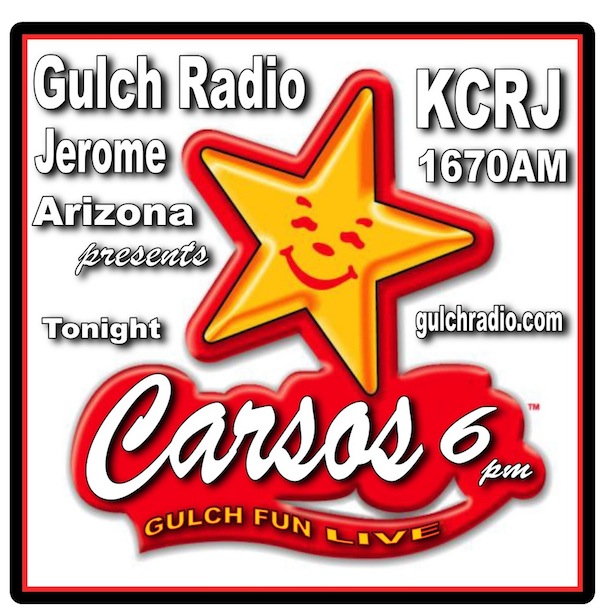 Saturday nights 6 PM to 8 PM MST - Gulch Fun - Every other Saturday night, fellow Jeroman, Carsos takes a seat behind the GulchRadio microphone and brings his collection ecclectic music to Jerome and the world. He guarantees each show to play at least one song you have never heard before, so there is always "something new" when you tune in to Carsos' Gulch Fun at 6 pm Mountain Stranded Time. Be there.... Aloha!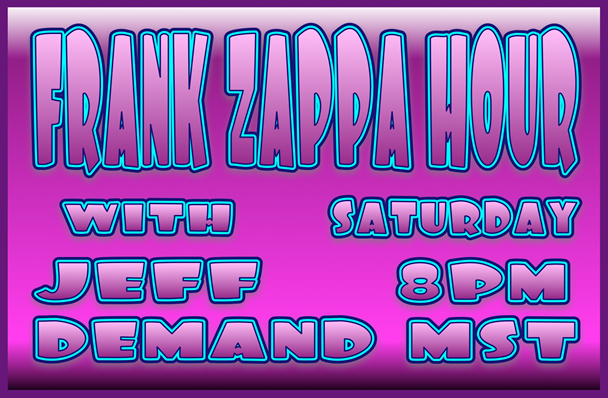 Saturday night at 8 PM MST - The Frank Zappa Hour - The Frank Zappa Hour hosted by Jeff Demand features the music of Frank Zappa along with interviews of various people who were involved or are involved in the music of Zappa including interviews and performances of Zappa's music by artists from around the world - exclusively on Gulch Radio.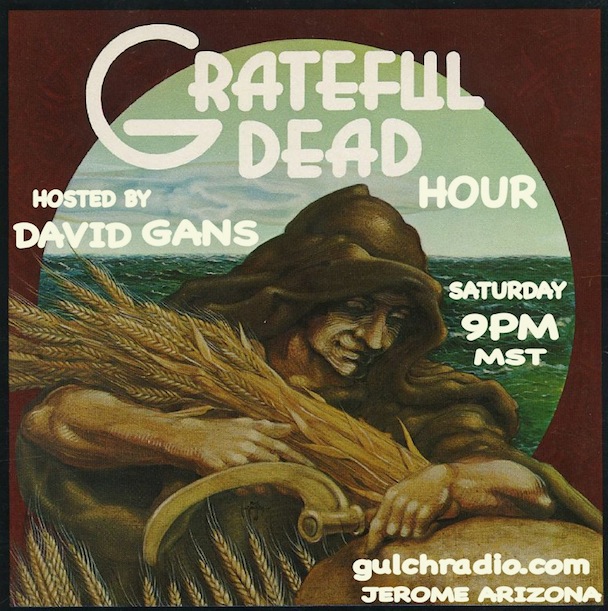 Saturday from 9 PM to 10 PM MST - Tune into David Gans and the Grateful Dead Hour. One hour of the Dead - music and interviews every Saturday night on gulchradio.com AM1670 home sweet Jerome.

Saturday Night 10 - 11 PM MST - Join GulchRadio and Pat Mitchell Worley for Beale St. Caravan - a great blues show with live performances from the blues greats. A quality NPR production, styled in a magazine format, Beale Street Caravan takes listeners to exciting live Blues events each week. The program is hosted by Pat Mitchell Worley, with Feature Host segments from industry insiders such as Jerry Wexler, Bob Porter, or Cybill Shepherd. Blues lovers, this is an excellent program, Sunday night at 7 PM GulchRadio presents a fresh one hour episode - Beale Street Caravan - twice every weekend on GulchRadio!

Saturday Night 11 PM to 1 AM MST - Mountain Stage guarantees listeners the best seats in the house for new performers and established artists. It's a two-hour weekly exploration of the exciting and spontaneous sound of live performance, offering intelligent, contemporary music seasoned with traditional and roots artists.
Hosted by Larry Groce, the program occasionally takes a road trip to bring music lovers rare and special events as they happen. For example, listeners enjoyed front row seats at a Nashville hot spot, joining enthusiastic fans in a salute to the Fairfield Four, legends in a cappella gospel. With Mountain Stage, listeners are treated to the performers and the place.
This award-winning show is the longest-running program of its kind -- over 1,200 artists have appeared on the Stage since it premiered nationally in 1985.
GulchRadio is the place to be every saturday night at 10 MST - around the world at gulchradio.com, at home in Jerome, AM1670
Sunday Morning:
3 AM to 1 PM MST - Undercurrents with Greg McVicar Sunday Special - Greg's great show at a time when most of us can hear it. In GulchRadio tradition Greg mixes familiar and unfamiliar cross genre with both contemporary and traditional Native American music. It's a special show - Sunday mornings are special on the Gulch. Presented through the courtesy of the NativeVoiceOne Network.


Sunday Afternoon and Evening: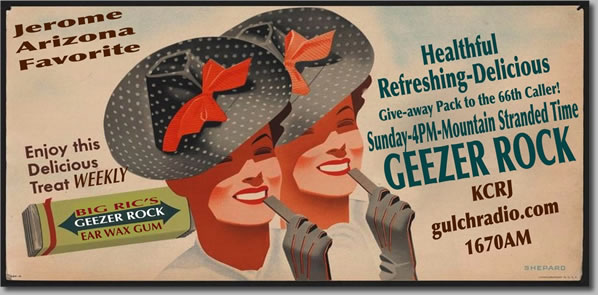 4 to 6 PM MST - The Geezer Rock Show - live from the studios of GulchRadio in Jerome, AZ - we bring you the roots of rock and roll, Mid fifties to mid 60's rock. The artists that made the music move, sprinkled with a few old radio jingles and interesting commercials, hosted by Ric. You'll be entertained. PS - Ric takes requests online: gulchradio@hotmail.com
Sunday Nights: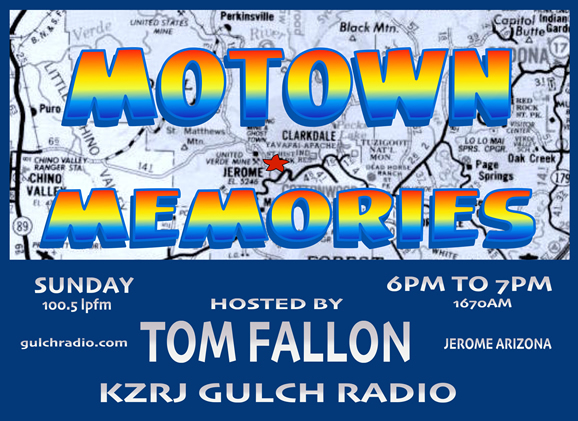 6 to 7 PM MST - Motown Memories - Motown Memories.Motown fans love Motown Memories with Tom Fallon, Mr Motown spins the obscure and the hits with an always interesting show full of Motown Memories. If you are a Motown fan, and why wouldn't you be? ... then this is THE show for you. All the greats! Pure Motown!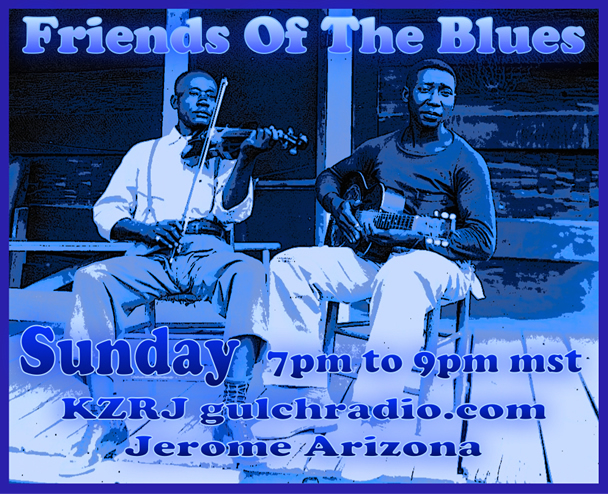 Sunday Nights - 7 to 9 PM MST - Friends of the Blues - hosted by "Shuffle Shoes the Blues Guru" and Dr. Sky Dobro. Friends of the Blues features two solid hours of blues legends like Muddy Waters, Willie Dixon, and Sonny Boy Williamson; current "unknown" wailers like Kid Ramos and Too Slim and the Taildraggers; and regional stand-outs like "Mondo" Cortez's Chicago Blues Angels, and the Kilborn Alley Blues Band. True aficionados the hosts are immersed in Blues culture; they know the artists, the labels, the recordings, the band members - and they do a good amount of traveling to live blues performances throughout the U.S.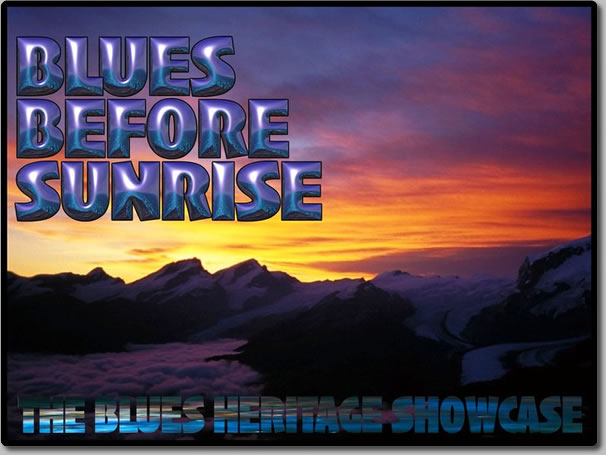 Sunday night 9 PM until 2 AM MST Monday morning Blues Before Sunrise - Heritage Blues on GulchRadio - For 17 years DJ Steve Cushing has aired Blues Before Sunrise, the "Blues Heritage Showcase", over Chicago's public radio station 91.5FM WBEZ, and for the last six years the rest of the country has also had a chance to hear his show via satellite - Blues Before Sunrise has long served an audience that includes loyal home listeners, musicians lounging on break, lovers in their living rooms, cab drivers and other service workers pulling the graveyard, and even teen airwave surfers discovering an entire musical world peopled by cats who were hip before them.
Blues Before Sunrise showcases blues as part of a cultural landscape that includes jump and jive, rhythm and blues, swing, doo wop, gospel, comedy, and recitation, and never is the music presented as kitsch or retro fashion in the way that some music has been exploited and trivialized. For Cushing the blues is a living African-American tradition with deep roots.
As a musician himself bearing substantial credentials with Magic Slim and The Teardrops, the Lee Jackson band and Smokey Smothers and The Ice Cream Men, Steve Cushing numbers among his friends and closest associates the artists on this recording-fellow musicians to whom this is a vital, thriving music as well as a means of making a living. This is a great show that GulchRadio is proud to present - join us.
Back to the top of page.
GulchRadio/The Gulch is a non-profit community service.
We hope to generate a little good karma with this thing.